Since its creation in 2008, the New Caledonia GROUPAMA RACE has enthused sailors, the public and commercial partners.
It is a dream course; a circum navigation around New Caledonia for monohulls and multihulls in racing or cruising mode, with crews full or short-handed. Sailors navigate among reefs, atolls and small islands that are part of the protected World Heritage listed site, passing turtles, whales and other sea life over the 1200km course.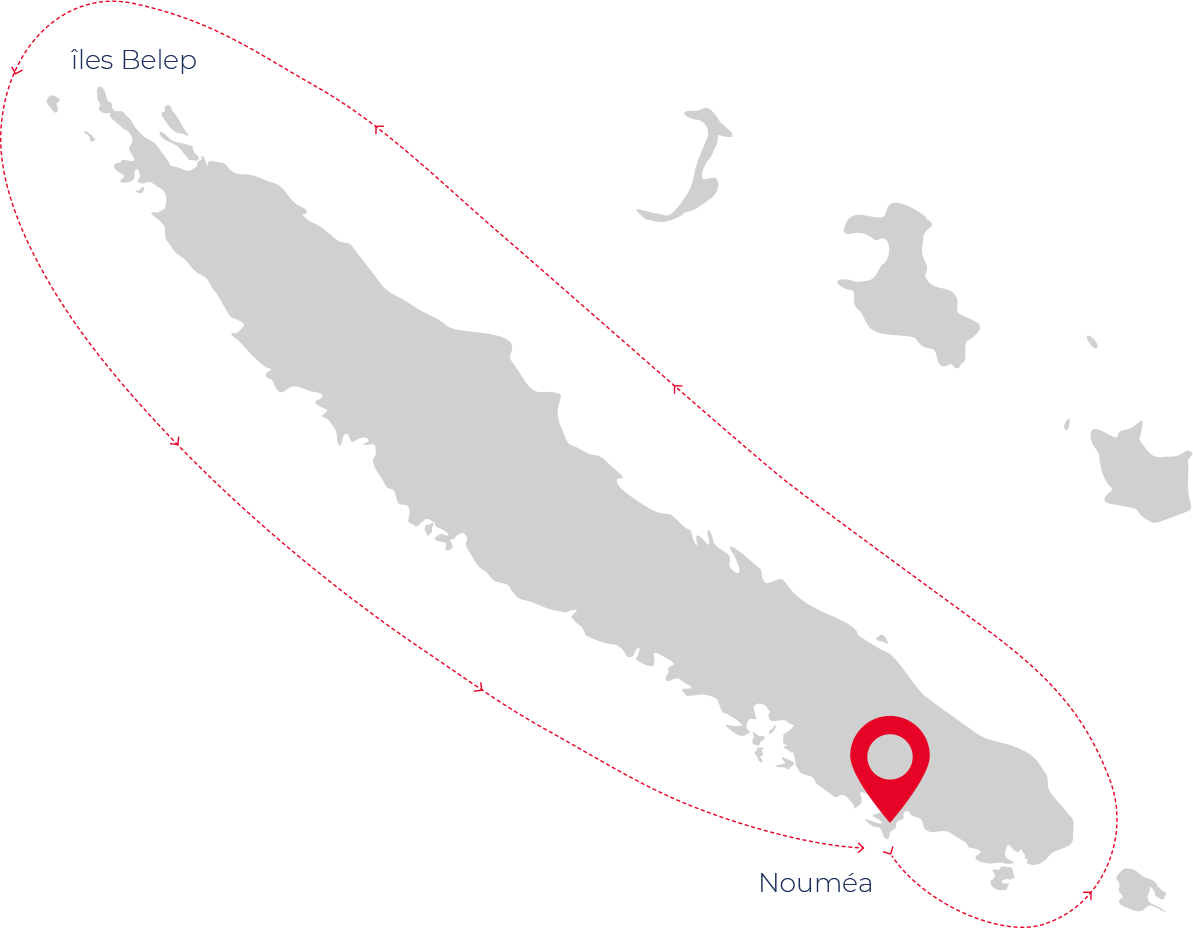 Latitude 22° South
The regatta in paradise
Behind the breathtaking scenery the New Caledonia GROUPAMA RACE is a challenging and very tactical offshore and coastal race, offering navigators a variety of options: head offshore or run along the coast, often close to the reef. Add to this changeable weather plus swell and ocean and tidal currents, and there are plenty of sleepless nights for committed sailors. When the tradewinds are in, the New Caledonia GROUPAMA RACE is the perfect and world's longest windward /leeward race; 300nms surfing along the east coast under spinnaker then 300nm supwind along the west coast. This ideal scenario hasn't played out in recent editions with mixed conditions on offer. The wind might be south-east trades or strong westerlies, but the water over the deck is always warm !
Types of boats
and crews eligible

Monohull
Short-handed or crew

Multihull
Short-handed or crew
A French touch
in the Pacific
Onshore the public takes a keen interest in the race. The race village is in a secure marina and media updates and nightly entertainment, including a warm on-stage welcome for each crew as they finish, brings the village to life every evening. Onboard videos are watched online all over the world and 20,000 players enjoy the virtual regatta.
The event atmosphere and competitor offerings are unique, a mixture of French and Melanesian culture in the Pacific. Organisers of the New Caledonia GROUPAMA RACE look forward to welcoming you in paradise in 2020.
Palmares
2008
Monohull real time :
Les Nouvelles
3j 23h20mn 55s
Monohull compensated time :
TFO les Huitres de Dumbea
2010
Monohull real time :
odm.nc
4j 9h16min 30s
Monohull compensated time :
La Réunion Pacifique lagon voyages
2012
Monohull real time :
X3 Mange mieux, bouge plus
4j 00h46min 45s
Monohull compensated time :
X3 Mange mieux, bouge plus
2014
Monohull real time :
Crusader
3j 18h54min 06s
Monohull compensated time :
X3 Mange mieux, bouge plus
2016
Monohull real time :
Scallywag
2j 13h19min 55s
Monohull compensated time :
Banque de Nouvelle-Calédonie
Multihull real time :
Vodafone
2j 00h33min 12s
2018
Monohull real time :
Miss Scarlett
3j 00h52min 0s
Monohull compensated time :
Patrice
Multihull real time :
Rushour
3j 00h52min 51s