Battles throughout the fleet and imminent finishes
22 June 2022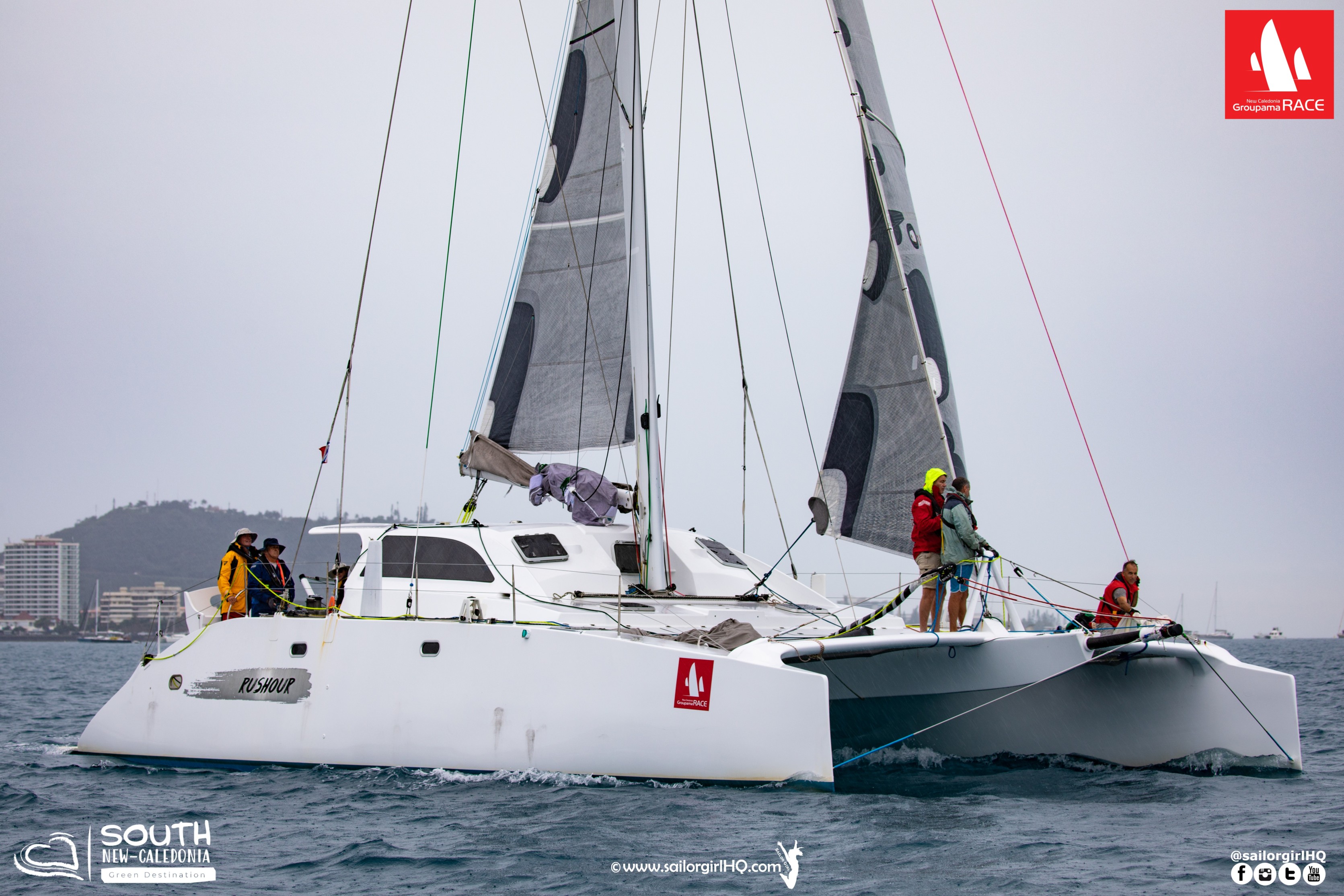 Groupama Race: Battles throughout the fleet and imminent finishes
300 nautical miles upwind, the second half of the New Caledonia Groupama Race has not been an easy task. We have seen varying strategies, with some opting to stay offshore, and others flirting with danger, coming in and out of the reef.
It is now all but certain that the Australian team on board Rushour, the Drew 15 catamaran will be the first boat to cross the finish line following a successful strategy of a predominantly offshore route, followed by Antipodes, Santa Cruz 72 and Oceans Tribute, a Crowther 40 trimaran, both also Australian.
We spoke to the latter two earlier today.
Richard Hudson, navigator on board Antipodes: 
"We are all very well and having a great sail. The sea is very flat, almost calm and we have about 12 knots of breeze from the south-east. Our strategy is, try to catch Rushour, she's ahead of us now so we will have to try and catch up. We can see them, there is almost a whole day of sailing to be done and we will continue to chase them."
Guy Chester, skipper of Oceans Tribute:
"We have 130 miles to go, all good on board, we are sailing to windward in a light sea and beautiful conditions. If we have to sail to windward, these are the best conditions we could have. All crew are good, and we hope to be there sometime on Wednesday, or maybe it might have to be Thursday. Our plan for today is to continue to Grand Pierre, and then make one more long take out into the sea, and then one back to close the passes. We are still looking at which pass to come into the reef and into the lagoon. We don't know exactly the position we are in, we think Rushour is well ahead of us, and we think Antipodes is still ahead of us and we hope to hold off the rest of the boats."
This morning Antipodes lost a fair amount of time when trying to take advantage of the overnight land breeze. This did not pay off, and Oceans Tribute was back in range by the time they headed offshore early afternoon.
Battles beyond Line Honours
Between Poulpito MLS-FCD, Eye Candy and Guilty Pleasures, the three Sydney 38's, the difference is counted in minutes after 85 hours of navigation. The sister ships are linking tacks, and playing a close game of chess which will come down to the wire.
With them is the New Caledonian catamaran Kalolo, the Australian monohull Wings and two double-handed Caledonian/New Zealand crews, Motorboat 2 and Optic Discount Clockwork.
A third group is hot on their heels, bringing together the majority of the other competitors, and the top of the standings in corrected time: Axians Untouchable, BCI-Brer Fox and Tosot Climatization.
The latter took an interesting strategic turn in the race today. Led by BCI-Brer Fox, they chose to take shelter inside the lagoon via the passes of Yande and Poum. Blue also followed this leading IRC pack into the sheltered waters.
For the tail end of the race in the cruising category, the crews of Cipango OPT and Blade Runner have joined the rest of the fleet and are also tackling the descent of the West Coast.
Approaching the finish
Guy Chester:
"As at 1620 Wednesday we have 68nm to the finish. A lazy 11 kts of wind which appears to be easing. We have had a relatively easy windward beat with moderate swells and only real slamming on the offshore boards. Crew are ready to finish… can taste the rum. We have lost Rushour but are in contact with Antipodes. She appears on AIS occasionally and is tantalisingly close, a few hours ago only 6nm ahead. All crew are focussed on trying to beat this pesky monohull (albeit an ultralight 72' transpac boat). Still 10% of the race to go but it feels like we are homeward bound. Focussed and hopefully fast enough."
We expect Rushour to take line honours just after 2200 local time tonight. There will be live broadcasts in both French and English.
Current positions
IRC – Axians Untouchable, BCI Brer Fox, Tosot Climatisation Ketal, Eye Candy, Guilty Pleasure – Speed Marine
ORC – Axians Untouchable, Tosot Climatisation Ketal, BCI Brer Fox, Guilty Pleasure – Speed Marine, Eye Candy
Multi 2000 – Rushour, Kalolo, Oceans Tribute
Line Honours – Rushour, Antipodes, Oceans Tribute, Kalolo, Guilty Pleasures – Speed Marine
Day Four Update (English): https://fb.watch/dOC7ii7-mM/
Tracking is available here: https://yb.tl/ncgr2022