Rushour is the first in a rush of Australian arrivals
23 June 2022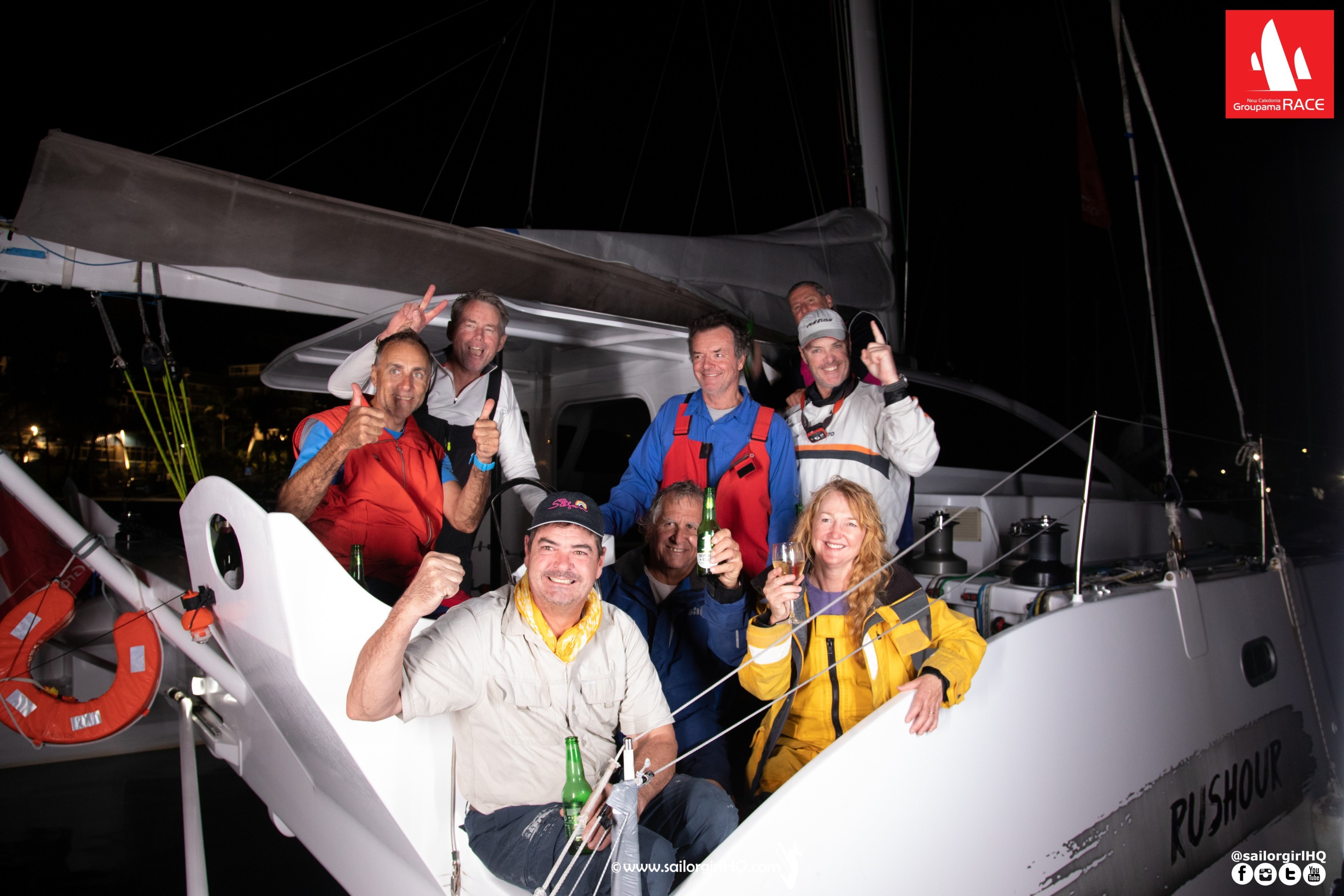 Groupama Race: Rushour is the first in a rush of Australian arrivals
Last night, just before midnight, Rushour was the first for the 7th Edition of the New Caledonia Groupama Race to cross the finish line.
The Australian Drew 15 catamaran won this in real time in 3d 13h 42m 38s.
Live finish, including being on board for the flare and interviews: https://fb.watch/dPyTuSgxHc/
The Australian owned Santa Cruz 72, Antipodes, crossed the line just over two hours later to take monohull Line Honours, circumnavigating New Caledonia in 3d 15h 51m 28s.
Live interview on the dock: https://fb.watch/dPyUNeFp9O/
At 1115 local time a protest was received by the Protest Committee. The Race Committee is protesting Antipodes with the hearing scheduled for 1900 local time. We will keep you posted on the findings.
Oceans Tribute, the Kiwi trimaran also owned by an Australian finished just after sunrise, 3d 20h 50m 36s elapsed time.
Live broadcast of the finish: https://fb.watch/dPyGRj4tmz/
Live broadcast on the dock: https://fb.watch/dPxRo5Hc4S/
The remainder of the fleet
The remainder of the fleet is sailing along the east coast, upwind, in light conditions.
Eye Candy the Sydney 38 has now passed Kalolo, but their rivals Poulpito MLSC FCD and Guilty Pleasures Speed Marine are within miles. The three Sydney 38's and the last multihull are expected around sunset, with barely thirty minutes between them. Wings is also in the mix with this pack, however, they have opted for a wide approach to Noumea and the most southern entry to the reef that we have seen so far.
Less than one mile behind is the first double-handed crew Motor Boat 2.
Two more double-handed crews are expected in the early evening: Optic Discount Clockwork and Tosot Climatization Ketal.
Unfortunately Blade Runner, the fourth boat in the doubles category, and the smallest boat in the fleet has detected issues with their rudder. They are on their way to Koumac, to repair and will likely not complete the race.
On corrected time, it is exceptionally close between the top three, who have held their positions for most of the day.
Current positions
Overall Line Honours and Multihull Line Honours Winner: Rushour in 3d 13h 42m 38s
Monohull Line Honours Winner: Antipodes in 3d 15h 51m 28s.
IRC – Axians Untouchable, BCI Brer Fox, Eye Candy, Guilty Pleasure – Speed Marine, Poulpito MLS FCD
ORC – Axians Untouchable, BCI Brer Fox, Eye Candy, Tosot Climatisation Ketal, Guilty Pleasure – Speed Marine
Multi 2000 – Rushour, Kalolo, Oceans Tribute
Tracking is available here: https://yb.tl/ncgr2022
VIDEO
Day Five Update (English): Available at www.facebook.com/sailorgirlhq
-ends-
We will keep you updated as the fleet progresses, and will provide live finishes and interviews on arrival.
Images – Nic Douglass @sailorgirlhq