Race in Paradise on for 2022
9 February 2022
The past few years have been some of the most difficult we have all experienced. We have all missed out on something crucial from work to family, we have all been missing a little bit of paradise.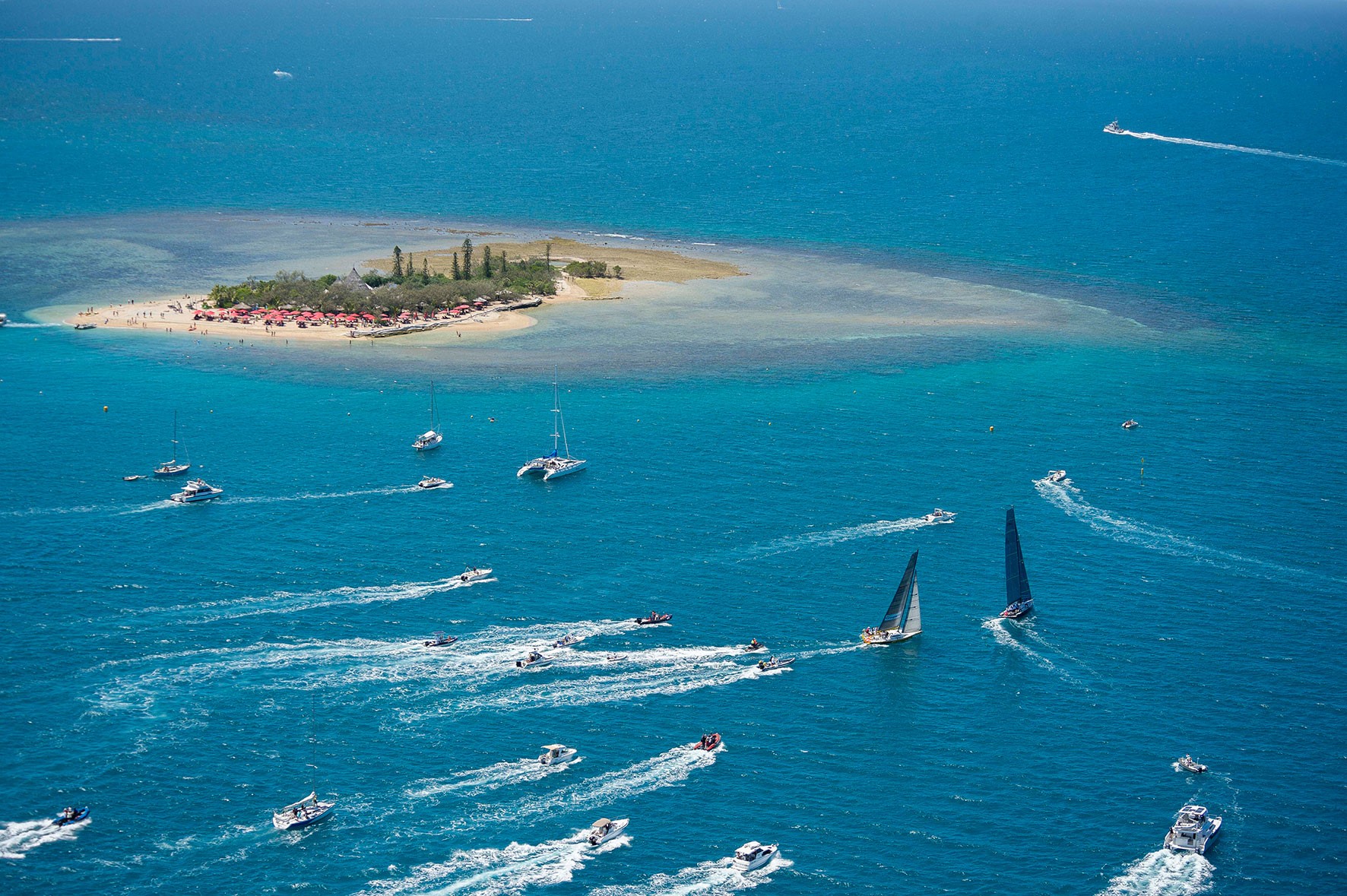 The New Caledonia Groupama Race, known as the Race in Paradise, is a 654nm race or cruise for full and short-handed crews around the world's largest lagoon, also a World Heritage site.
At 22 degrees south of the equator, there is nothing but warm water to blow over your deck, while you choose a course offshore or close to the coast, navigating your way past reefs, atolls and small islands while eyeing off the local dolphins, whales and turtles.
Speaking of locals, New Caledonians love to get involved with the event, bringing a rich blend of French and Melanesian culture. Our race village, within a secure marina, offers nightly entertainment for those not racing as well as those who are warmly welcomed as they finish.
For those not able to join us for the seventh edition of this race, we expect over 25,000 participants in the virtual regatta (we had over 26,000 for the last edition), and our world-class media team will be sending out regular updates to share the incredible combination of pacific hospitality and tropical offshore racing with the global sailing community.
"THE WORLD'S LARGEST WINDWARD-LEEWARD REGATTA"
With south-easterly trade winds, or strong westerlies the predominant forecast for June, the New Caledonia Groupama Race is effectively the world's largest windward-leeward. The multihull and monohull records stand from the 2016 race when we had strong trades, Vodafone holds the multi and SHK Scallywag the mono.
In a few days, already 10 boats have registered. Some of the first international entries were Wings, out of the Royal Prince Alfred Yacht Club, Oceans Tribute out of Tinaroo Sailing Club in North Queensland, and the TP52 V5 from New Zealand.
"I bought Oceans Tribute 18 months ago, during COVID lockdown" said Guy Chester. "Oceans Tribute is sistership to Bullfrog, the Crowther 40 that raced around Oz in 1988 and Ian Johnston, Bullfrog's builder came to NZ and helped our refit last year". 
"I hope to do lots of offshore with this great boat, and given she did the last Groupama, we thought we better do it again. I cruised New Caledonia in 2003, so I'm looking forward to the great lagoon and trade wind sailing!"
"We have put together a great multihull crew from North Queensland and after the past few years we are just keen to go racing with mates". 
The Race Committee is as talented as they come, with Race Director Denis Thomson taking the helm with a local team following on from the Ponant Sydney to Noumea Yacht Race. The 1,064 nautical mile feeder race will commence on 5 June 2022 providing plenty of time for an arrival to start the New Caledonia Groupama Race on 19 June.
"A BIG GAMBLE "
"I enjoy working with the local race committee," commented Denis Thomson. "Philippe Mazard, the former Commodore of the Cercle Nautique Calédonien Yacht Club, has done the race quite a few times himself, he knows how to put the event together and make it all work seamlessly". 
"New Caledonia is about the same latitude as Hamilton Island" he continued. "It's not excessively hot, winds are consistent, water is beautiful… It's the world's biggest lagoon. Around the Island is a fringe of reef, between a mile to twenty offshore".
"The course is a massive windward leeward, that is the way the island lies, however, it doesn't always work out that way" Thomson clarified. "Up the north-end of the island you can get all sorts of breezes and it becomes a tricky and tactical race, a navigator's race… Even if you are blasting in the trades, you have to decide, do you go inside or outside the reef, and how far out to sea do you go?"
"Franck Cammas went out as far as the Loyalty Islands and back again one year" Thomson reminisced, "it was a big gamble. He looked good for a while, but he didn't win".